Executive Command Staff
Sheriff Mark Brave was elected on November 3, 2020, as both the youngest and also the first African American High Sheriff in New Hampshire's history. Protecting and serving the public has been Sheriff Brave's lifelong professional endeavor, and he embraces this role proudly. During his career in law enforcement, Sheriff Brave has served in city municipalities and state agencies, in addition to working as Chief of Campus Safety for Great Bay Community College, which encompasses both the Portsmouth and Rochester, NH campuses. Since Sheriff Brave's employment with the Sheriff's Office, he has held numerous roles including Sergeant overseeing the Civil Process Unit and Transports. Sheriff Brave also oversaw the Standards and Training Unit, which includes responsibility over the Sheriff's Office certification standards via the Commission on Accreditation for Law Enforcement Agencies (CALEA) Accreditation Program. Sheriff Brave completed his graduate degree in Forensic Psychology, which has cemented his passion for continuing his professional development.
Along with his work in the Strafford County Sheriff's Office, Sheriff Brave currently serves his community through various volunteer focuses. Specifically, his volunteer fundraising efforts for the New Hampshire Special Olympics, combined with coaching in a local recreational basketball league for teens have been a few highlights. Additionally, Sheriff Brave serves on a handful of boards including: the Board of Directors for the Seacoast Educational Endowment for Dover (SEED) and Dover Adult Learning Center, which has been a particular point of pride due to the biannual grant funding awarded to the local public schools that fund unique areas of need in the schools' curriculum; The Dover Adult Learning Center (DALC); New Hampshire Supreme Court Steering Committee on Diversity and Inclusion Advisory Board; Committee for Racial Equity and Inclusion and many others.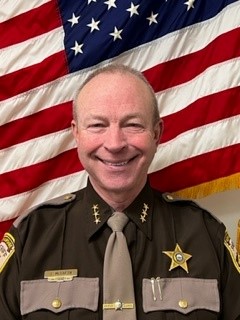 Chief Deputy Joseph McGivern has worked almost his entire adult life in Law Enforcement for Strafford County. He spent 22 years with the Dover, NH Police Department retiring at the rank of Lieutenant. Immediately upon retirement, he accepted a position as a per-diem Deputy Sheriff with the Strafford County Sheriff's Office. In 2010, he accepted a part time position as a Deputy Sheriff, in the Civil Process Unit. Over the past decade, he has worked in virtually all aspects of the Sheriff's Office and has risen through the ranks to his current position as Chief Deputy.
Major Steve Bourque started his career in the USAF Security Police serving from 1985-1989. He then worked with the Somersworth Police Department as a full-time officer and patrol sergeant from 1989-2005. He then worked for the Rochester Police Department from 2005-2018 with the investigations unit, concentrating on sexual assault, child abuse, ICAC, SWAT and SWAT Sniper. Upon retiring from the Rochester Police Department in 2018, he came to the Strafford County Sheriff's office to continue work with ICAC and returned to full-time employment with the Sheriff's office in 2021.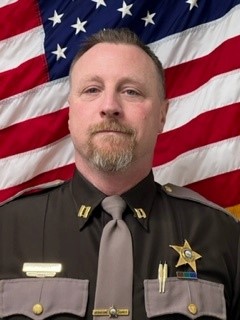 Captain Ray Pardy started his LE career in 1997, when he was hired, part time by the Northwood Police Department. He would then be hired fulltime by Northwood PD and attended the 117th PSTC Academy Class. In 2001, Captain Pardy left law enforcement completely for the private sector. In 2006, he came back to police work when he was hired by the Lee Police Department. In 2012, he was hired by the SCSO, as a transport deputy, assigned to ICE. During his time with the SCSO, he has been assigned to Transportation, Civil Process and Investigations. He was promoted to Sgt in 2016, with subsequent promotions to Lt and then Captain in 2020. He is currently assigned to the Investigations Unit, which consists of a POP unit, US Marshal's JFTF and a Jail Investigation Unit.